Documents can be sent to Finmatics by e-mail. For this purpose, Finmatics automatically creates e-mails per document category.
Activating the e-mail address
As an administrative user and a user of the "Accountant" type, you can activate this function.
Click in the "Clients" menu item
Select the "Processes" tab
Check the "Enable e-mail address" checkbox.
If you forward an e-mail to this e-mail address, Finmatics will automatically process the attachment.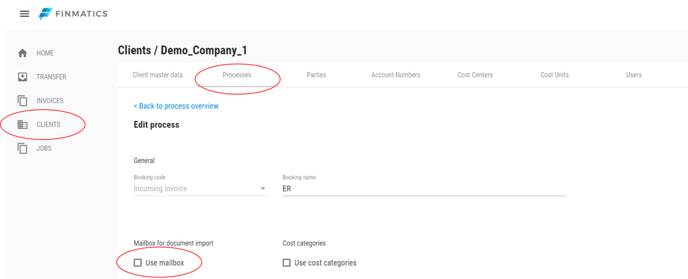 Which formats (e-mail attachments) can be processed?
All common image formats can be processed. These include pdf, tiff, jpeg, png.
What happens if no attachment is found in the e-mail?
Finmatics sends an automatic reply to the sender with the content "No attachment found, e-mail could not be processed".



Further links:
How do I use the Finmatics mobile app?