The activation of Finmatics Connect for RZL is done in three steps per client:
Activate client for Finmatics
Upload training data
Set update options for the client
This article describes the three steps in detail.
1. Activate client for Finmatics
Master data synchronization must be set up so that the information can be uploaded to the RZL client portal. To do this, enter the data for the RZL client portal in the
STAMM / Settings / Client portal synchronization area. You can find details on this in an extra quick guide Synchronization of RZL Board client master data to the RZL client portal under Help / Quick guides.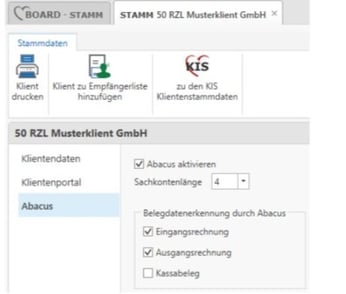 The activation of Finmatics at the client has the following effects:
The client is created at Finmatics with all necessary master data (client number, name,
address, account length, UID number)
Documents that are uploaded via the client portal (e.g. by the client), depending on the setting of the respective document type, either land
either directly to the RZL tax advisor or are uploaded to Finmatics for recognition.
for recognition. This setting is valid on the client portal for the menu item Document box / Submit documents as well as for the voucher scan manager under Voucher box / Voucher scan manager.
2. upload training data
The quality of the recognized voucher data and booking suggestions depends very much on previously recorded bookings. Therefore, training data must be uploaded to Finmatics once initially.
To do this, start the menu item Edit / DMS document processing / Train Finmatics in the RZL Financial Accounting.
Here you can upload the chart of accounts (G/L accounts and person accounts) as well as the postings of the past year to Finmatics.
To upload training data, a batch that may not have been finalized must be finalized.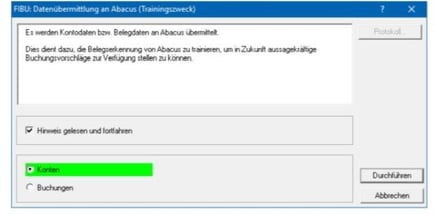 Note: Uploading the training data may take a few minutes. Please do not cancel the dialog.
3. set updating options in the client
For each client that is posted with document processing, we strongly recommend that you activate the automatic update of the person accounts.
In the RZL Financial Accounting or EA Invoice, start the menu item Master / Accounts / Update options. Here you can set that after a DMS posting the following data read from the document will be automatically stored in the account:

IBAN
Customer number
UID number

After successful, automatic deposit of this data, the information is transferred back to Finmatics after booking.
Note: These data are crucial for a successful assignment of a voucher to a person holding account.