For the initial installation and activation of Finmatics Connect for RZL, you need access data to Finmatics, which you store in RZL. This article describes how to obtain the access data and store them in the RZL.
How do I get the access data to Finmatics Connect?
Simply contact RZL at Software@rzl.at or call 07752 / 252 DW 65 (Sales). Once you have agreed / ordered the module from RZL, you will receive an e-mail from support@finmatics.com with the access data for Finmatics Connect.
How do I store the access data at RZL?
The received access data must be entered in the RZL board. Every HIS/Board administrator has the rights to do this.
Open the menu item STAMM / Settings / Finmatics in the RZL Board.
Enter the Finmatics data in the User name and Password fields.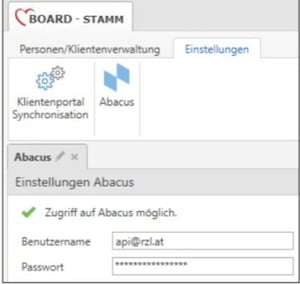 If the data is entered correctly, a check mark "Access to Finmatics possible" is displayed.