In order to be able to transfer training data and receipts from BMD to finmatics, settings must be adjusted as described in this article.
Usually these settings are adapted by BMD during the initial setup. However, if you create new clients or something does not work during the transfer to Finmatics, you may have to check the settings again.
Company masterdata settings
The check mark in field 479 "FINMATICS" must be set in the company masterdata of the client.

Setting up the OCR recognition
For the training data transfer as well as the transfer of documents from bmd.com to Finmatics, the OCR recognition must be activated for each document type. OCR recognition must be set to either "OCR with automatic separation" or "OCR without separation".
The parameter can be found in the FIBU Masterdata - FIBU parameters - 1 General - Company-specific settings - 6 Documents in BMD COM/BMD Web-Databox

Pre-entry of bookings
You must create the books so that the booking proposals incl. invoices can be processed by Finmatics (control, adjustment and booking).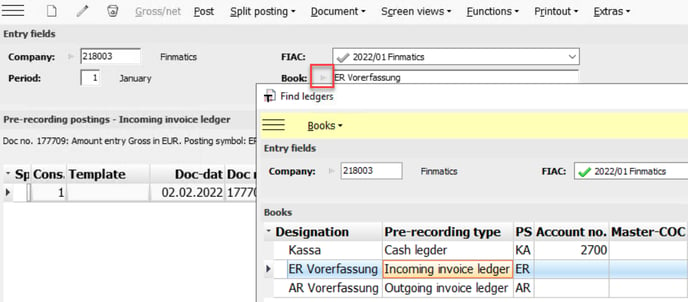 Start of synchronization with Finmatics
As soon as the Finmatics setting is activated in the company master data, the synchronization with Finmatics can be started under Company and Financial Accounting Master Data.
Upon first setup with BMD this synchronization is done one time and afterwards it synchronizes automatically every time new masterdata will be implemented into BMD or as soon as you confirm the booking via BMD. In case it is not, you can try to synchronize it manually.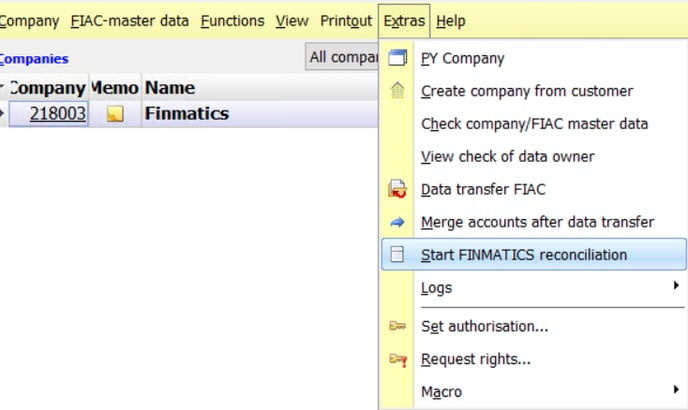 The fields to be synchronisedcan be selected in the Entry settings :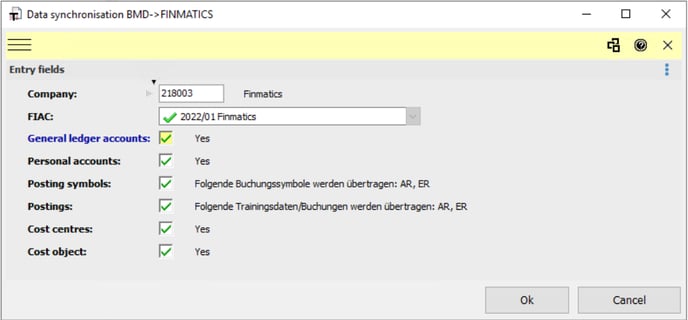 Booking symbols: The booking symbols are aligned to the categories which are on file in the BMD ledgers.
Entries: The transactions to which certain booking symbols in these ledgers have been assigned are adjusted based on these symbols. The current year and the first previous year are matched.
The data synchronization BMD to Finmatics must normally only be carried out once at the beginning.
New suppliers that are created in the Chancellery portal are automatically created when the bookings are imported (see Import person accounts).
Later, for example, when master data is changed in BMD, the synchronization to Finmatics also takes place automatically.