With Finmatics you can implement single and multi-level document approval processes. Here you can find all information about how to use document approval.
Step 1: The document must be entered into the system...
For a release process, it is necessary that documents are transferred to Finmatics.
The entire range of Finmatics document transfer technologies is available to you for this purpose:
Invoice transfer via e-mail
Mobile App
Automatic scanning machine
Upload
REST-API / WEB-EDI
Integrations from third-party software providers
Of course, you can combine all document transfer technologies as you wish:
For example, e-mail invoice transfer can be used in combination with scan & sort. But also all 5 possibilities of document transfer can be used together in combination.
Either way, the documents get to the release stage.
What does a typical invoice approval process with Finmatics look like?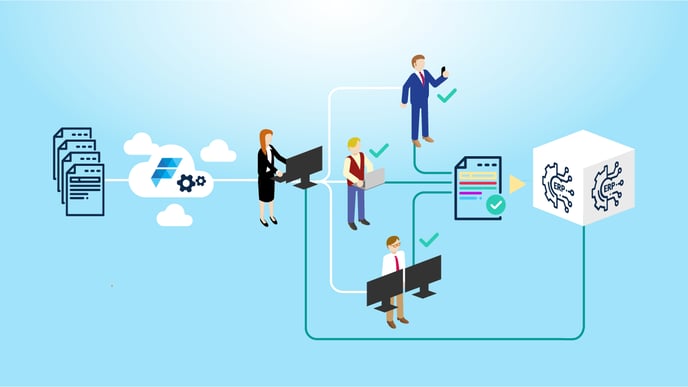 Step 2: The document has to find the right releaser...
Once the document has been received, it must be released. The challenge now is that the invoice has to go to the right people in the company who are responsible for approving it.
Often this is even very simple: one person, usually the management, has to approve the documents.
The larger the company, the higher the complexity: invoices have to go to team leaders, cost center managers, etc. Sometimes a one step approval is enough, sometimes 2 or more step approval processes are necessary.
Step 3: The document is approved and / or updated
The correct person in the company is then identified via the invoice approval process that has been set up. The person now receives the document in their task list and can approve, reject or, if desired, assign other persons.
This is done conveniently via the Finmatics mobile app or in the Finmatics web client.
How is the releaser notified that new vouchers are to be released?
Email notification: If documents need to be approved by users, they will receive a notification via email.
Should I approve receipts in the browser (web client) or via mobile app?
Basically, it is up to you how you approve documents. It has no technical impact and is usually purely a matter of taste. Simple invoice approvals are usually more convenient via mobile app (approve/reject). In the same way, you can also add cost centers/labels.

Exception: if complex splits are necessary (splits to multiple cost centers), the browser (web client) should be used.
What does document sharing look like via mobile app and in the browser?
Watch the following videos to find out:

Share Documents (YouTube Video)
Invoice sharing with the Finmatics Mobile App (YouTube Video)