Many invoices show different price items and the corresponding articles. Often this data is printed in tabular form on the documents. Finmatics can help to automate this.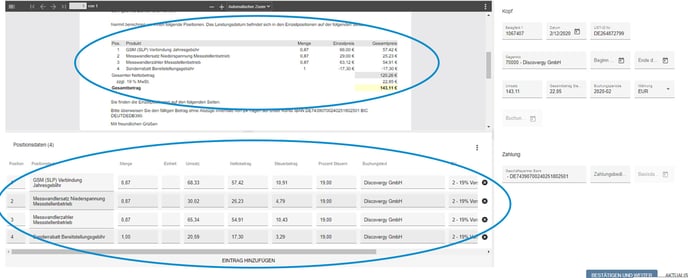 FAQs Line Item Selection
Why do I need the automatic line item selection?
You have invoices and need to enter the individual items. You can automate the reading of the individual items with the item selection function.

Can Finmatics also assign line items to an account?
Yes, the individual items are assigned to an account, as the item text is also used for the account assignment.

How do I activate the automatic line item selection?
If you wish to activate this feature, please contact your Customer Success Manager or customers@finmatics.com to clarify the specifications in advance. Our Customer Success Team will then forward the specifications to our Technical Support accordingly.
It can be activated for individual booking categories, i.e.: it is possible to activate the item selection for only those booking categories where it is needed.
When line item selection is activated, a split entry is created for each individual item. If several items are to be combined for certain documents and split into 3 split bookings for e.g. 10 items, please mention this when contacting us to see how this can be implemented if necessary.
Can items that extend over several pages be captured and seperated?
Yes, tables that extend over several pages of the invoice can also captured by our machine.