Finmatics logs a large number of the changes made to your invoices. In the history/ audit trail, you have the possibility to view date and time stamps as well as records of the process steps.
Where can I find the history/ audit trail?
In the detailed invoice screen of the selected invoice, click on the three-point menu next to the invoice image and then on "History".
Which information is shown in the history/ audit trail?
In the history you can see every change with a time stamp. In addition, you can see which user made the changes. If Finmatics is displayed as the user, this either stands for employees of our Shared Service Centre (SSC) or the Finmatics software. For a more detailed view of the changes made, click on the arrow in the corresponding line on the right.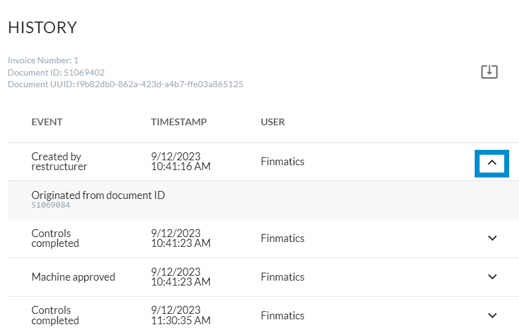 Can I download the history/audit trail ?
The history can be downloaded as a CSV or PDF file.